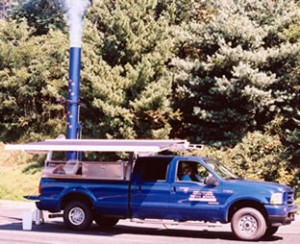 The opacity of plumes from industrial processes is subject to regulation by state departments of environmental protection. Compliance with these regulations is generally checked visually by certified individuals.
This program is devoted to the interests of industry and its problems complying with state regulations. In dealing with state regulations and personnel, it is to industry's advantage to employ proficient, certified individuals who are familiar with regulations and enforcement practices. Employees should also be knowledgeable about limitations of visual measurement and should be familiar with methods used to control opacity.
This program will aid your company in meeting the requirements for Title V certification. The objectives of this program are to explain why plumes have opacity and to train people to measure opacity visually and conduct certification tests.
Participants in Penn State's Smoke School are trained to visually read the opacity of industrial plumes and conduct tests in accordance with EPA Methods 9, 22, 23, and 203 A, B, and C. Participants who complete Smoke School training and pass the field test receive certification that they have become familiar with Title V (Title 5) regulations and enforcement practices.
Smoke School Offers Initial Certification and Recertification Training
The Environmental Protection Agency requires recertification in opacity training every six months. Those who want to maintain their Title V certification through Penn State should attend both fall and spring Smoke School programs.
Who Should Attend
Anyone who is required to be or wants to become a certified "smoke reader" should attend this program. While the program is technical, it requires no formal education in science, engineering, or technology. It is not suitable for researchers but is appropriate for consultants, lawyers, individuals with regulatory agencies, plant engineers, environmental engineers, technicians, boiler operators, and process-operating personnel.